Like everyone, our team is being impacted by Omicron and you may notice our wait times are a bit longer than normal. The best way to get in touch is via email and we will come back to you as soon as possible!
The Ugly Modem
The team at Slingshot reckon NZ is pretty beautiful & we want to keep it that way. To help play our part in reducing waste, we are offering Ugly Modems!
These modems are still in perfect working order, they just have a few marks and scratches from a previous life.

For every Ugly Modem chosen during sign up, Slingshot will donate $25 to help fund Keep New Zealand Beautiful's awesome work to inspire, educate and empower Kiwis to 'Do The Right Thing' and protect the environment.

So, grab yourself an Ugly Modem and help Keep New Zealand Beautiful!
Check out our plans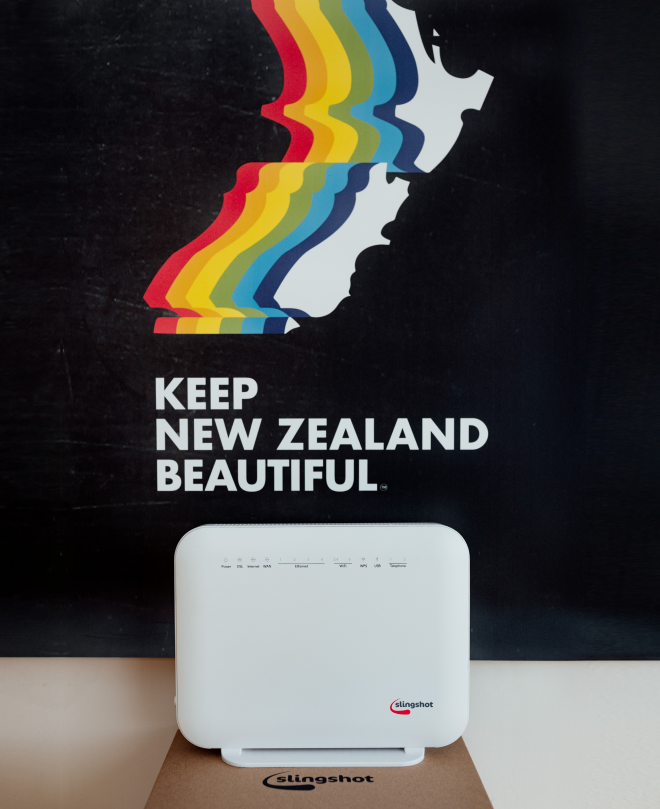 About Keep New Zealand Beautiful
Keep New Zealand Beautiful was established by the government in 1967 as the Anti-Litter Council and then, in 1979 became an incorporated society called the New Zealand Litter Control Council. For over 50 years they've been the organisation behind such iconic campaigns as 'Be a Tidy Kiwi' and 'Do the Right Thing'.

Their work today still focus' largely on tackling litter, but has grown to also include beautification initiatives, tree and garden planting, community pride, behaviour change and education programmes. Keep New Zealand Beautiful is passionately committed to the work they do and to championing change for a more beautiful New Zealand – now and for the future.
Find out more