During all COVID19 Alert Levels, we continue to be able to get you connected and provide great quality service. Our team is home based and fully operational. The best way to get in touch is via email.
Flexible billing, you call the shots!
Pay your bill weekly, fortnightly or monthly. It's super easy, and you can even pick the day of the week that works best for you!
NZ-based help desk
Our team is based here in NZ and we have been getting Kiwis connected since 2001!
Get connected quickly and easily
You can get connected even faster when you bring your own modem - the very next day in some situations! Plus, score a sweet $50 joining credit. Or, take advantage of our free modem rental. $14.95 postage fee applies.
Why Slingshot power?
10% bundle discount
Enjoy great value with our bundle discounts! Save 10% off your base broadband and 10% off power plans.
It's all on one bill
Broadband, power and mobile all on one bill – less household management! Easily managed online with our app, all with the same great service that Slingshot is known for.
No contract, no ties
We're pretty sure we can save you some money, but if you're unhappy with Slingshot power you can leave us with no exit penalty.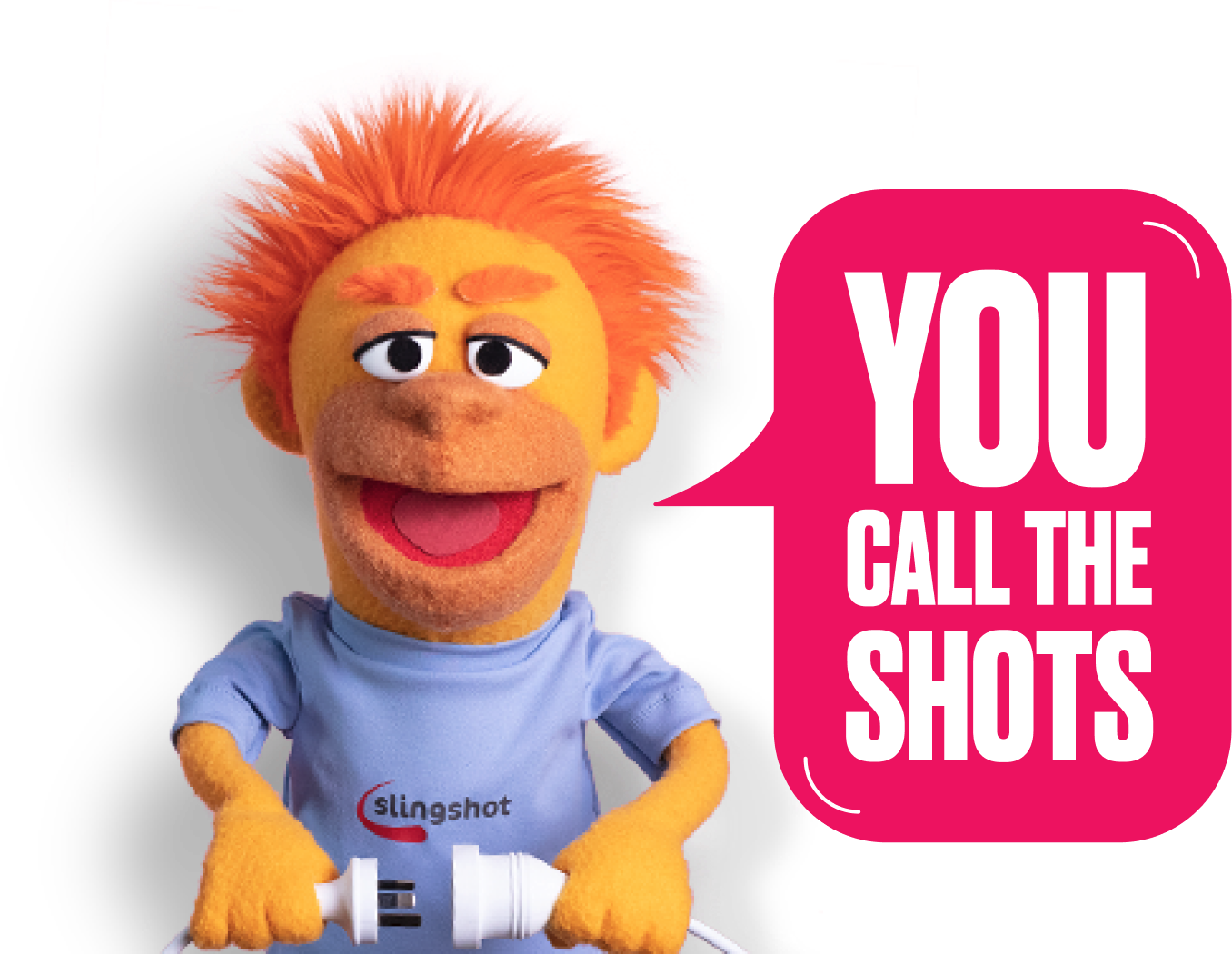 Why Slingshot mobile?
Super-easy switch
Set up is simple. We'll take care of everything, and you'll be powered by Slingshot in just a few days.
Easy SIM set up and number porting
The Slingshot SIM is easy to set up. Just snap out the right size, dial 6886 to activate it and then register it at mobile.slingshot.co.nz to start the process of transferring your existing number over.
Available nationwide
Slingshot Mobile is provided via the Spark network. You can bring your own number too (so long as it's a NZ mobile of course!)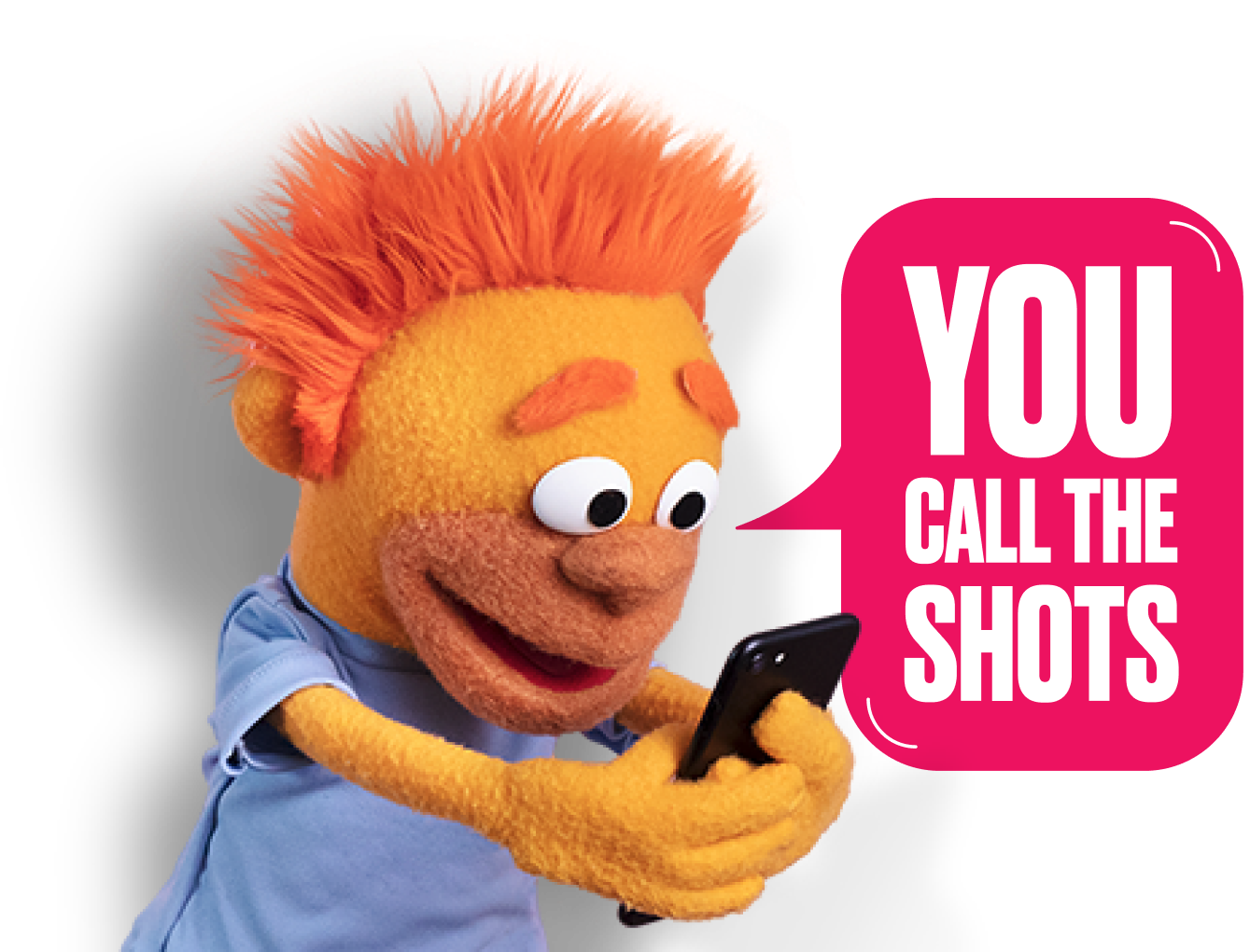 Frequently asked questions
There are two types of plan available to Kiwi households: Standard User or Low User. Under either you'll be billed both a daily rate, and a usage rate per kWh (kilowatt-hour) unit of electricity consumed. It's entirely up to you whether you sign onto a Standard or a Low User plan, but depending on your circumstances you may be much better off on one rather than the other. Here's why...
The Standard User plan has a higher daily charge, but a lower charge per kWh used, so is ideal if your electricity usage is relatively high. Households north of Christchurch are better off on a Standard plan if using more than 8,000 kWh each year, and for Christchurch and further south if using more than 9,000 kWh each year. Conversely, if your annual usage is lower than that number, a Low User plan is more advantageous. A Low User plan is generally suited to people using less electricity than average (hence the name!). It's designed so that the fixed rate is no more than 30 cents a day* but the unit rate is higher, which means that if you don't use much electricity you'll pay less than you would on a Standard User plan.
In general, you should pick a Low User plan if your household has one or two people living in a well-insulated, energy-efficient home, often with gas for heating or hot water. Very roughly, these households will spend much less than $200 monthly averaged across the year – although the exact level will vary in different parts of the country. Standard rate plans will suit larger households, where people are home a lot, and electricity is used for hot water and heating.
Note that while for most of the country the tipping point between the two plans is 8,000 kWh annually, the average household is better off on a Low User plan.
You can switch between Low and Standard user plans once a year.
*not including GST, and after any bundle discount
Electricity charges consist of two components – a fixed daily charge (usually quoted in cents per day) and a variable usage charge, usually quoted in cents per unit of kWh (kilowatt-hour).Each bill has cost that's made up of the fixed charge multiplied by the number of days within the billing period, and the variable charge multiplied by the power used over the period (or an estimate of this number). In some cases, you may have more than one variable charge related to different types of supply.
Electricity retailers are charged a levy by the Electricity Authority. Your old bill may show an "EA Levy". The EA levy is small, and we have chosen to include it within our variable charges rather than splitting it out separately.
Installation is usually free of charge. In some cases we will need to carry out some work on the wiring in your house to complete your installation, and this carries an additional charge. We will always notify you first for your approval before anything is carried out.
If you cancel your service before the contact period is up, you will be charged early termination fees.
24 month broadband + tablet - $450
24 month broadband & power + tablet - $600.
More info here
Yes! You can choose to use your existing modem (and score a $50 joining credit) or we will send you out an Netcom NF18 with free rental! Just cover the $14.95 delivery fee