At Slingshot we work hard to make our customers happy, but we understand that sometimes things do go wrong. We value your feedback and this includes any complaints you may have regarding our products or services
For Broadband and Power related complaints
If you would like to register a complaint with Slingshot, there are a few ways you can get in touch: Email us or Call us on 0800 89 2000, our call centre is open Monday to Friday 8am to 8pm, Saturdays 8am to 5pm and Sundays 10am to 5pm (more details on the contact page).
Or you can send a letter to the following address, don't forget to include your account number in the letter as well:
Slingshot Customer Service Team
PO Box 108-109
Symonds Street
Auckland 1001
If you've sent us your complaint in writing, or your complaint has been escalated by a Customer Service Representative or supervisor, the issue will be passed onto the Slingshot Complaint Review Team.
You can then expect a call, or letter if you prefer, from a Complaint Review Officer which will let you know that your complaint is being looked at and an approximate timeframe for the review. They will also provide your unique reference number and their direct contact details. We aim to have all our complaints resolved with 10 working days.
Complaint Reviews - Further Assistance
If the team at Slingshot can't resolve your complaint, you are welcome to take your complaint to a third party for arbitration. We believe that following our internal process will result in a satisfactory resolution.
Please note that before contacting a third party, all complaints must be registered with Slingshot first.
Telecommunications Dispute Resolution Service (TDRS)
Disputes Tribunal
The Commerce Commission
The Ministry of Consumer Affairs
Citizens Advice Bureau
You do not have to follow the complaint handling procedures in this document. You are always free to take independent action to enforce your rights.
What happens if you are not happy with the resolution?

If for some reason you are unhappy with the resolution of your homeline or internet issue, you have the opportunity to take your dispute to the Telecommunication Dispute Resolution service which Slingshot is proudly a member of. TDR is a free independent service available to all customers. More information of this service can be found here, but remember, you must have lodged a formal complaint with Slingshot before the TDR can investigate this for you.

Slingshot is a participant in the Utilities Disputes complaint resolution service. If, for some reason, we cannot resolve your power complaint or problem within 20 working days, you can take your complaint to Utilities Disputes, which is a free and independent complaints resolutions scheme. You can contact them on 0800 22 33 40 or go to www.udl.co.nz
For Insurance related complaints
If you would like to register a complaint with Slingshot about an insurance-related issue, you can email us or book an appointment to speak to us here.
We will review your complaint and work with you under our internal complaints handling process to get it sorted quickly and fairly. When you register a complaint with us, we will acknowledge receipt of it within 5 business days. A response to your complaint will be provided within 10 business days of receiving all relevant information we need to make a decision. If we need more time, we will provide you an update about your complaint at least every 20 business days, or within another time frame agreed with you, until we are able to respond to your complaint.
If we cannot work things out, we will provide you with our final decision and tell you about your right to request an external review by the Insurance & Financial Services Ombudsman Service (IFSO). We will try to resolve your complaint or provide you with a letter of deadlock within 2 months of receiving your complaint.
On the rare occasion we can't resolve an issue with you directly, you can speak with the IFSO. The IFSO is independent and can provide a free, impartial review of your insurance-related complaint.
You can refer your insurance-related complaint to the IFSO if either:
you have a letter of deadlock from us; or
more than two months have passed since you first made your complaint with us
If we issue a letter of deadlock, you'll have three months, if you wish, to refer your complaint to the IFSO. We'll abide by any decision made by the IFSO. Of course, you can also choose to seek a resolution elsewhere. You can contact IFSO at:
Telephone: 0800 888 202 Website: www.ifso.nz/complaints Mail: Insurance & Financial Services Ombudsman, PO Box 10 845, Wellington 6143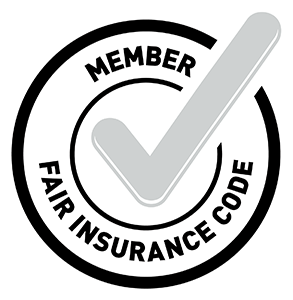 Tower Insurance is a member of the Insurance Council of New Zealand (ICNZ) and abides by the ICNZ Fair Insurance Code. Open Insurance Ltd adheres to the Insurance Council of New Zealand's Fair Insurance Code.